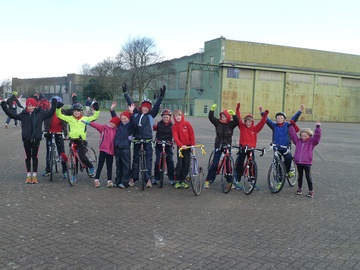 PACTRAC Juniors are a subsidiary part of the senior section to the local triathlon Club PACTRAC.
We train every two weeks or thereabouts at Stanground College in Peterborough. At Stanground College we have use of an 25m pool and the facility of using the wide open space of the playing fields for cycling and running.
The cost to take part in each session is £4. PACTRAC members receive a £1 discount on each session.
Ages range from 8 to 16 and anyone is welcome to take part. All we ask is that they are able to swim at least 100m to 200m un aided which sometimes can be a tough call for the very young ones! We offer expert coaching and all our coaches are BTF qualified.
The Club has a strict Child Policy and all coaches sign up to a key code of conduct in line with STARMARK accreditation. Juniors are encouraged and given plenty of time to have fun and in the two years since the Juniors have started there has been an incredible difference and changes in ability in everyone that has taken part. Triathlon offers individuals to express themselves within the individual disciplines of triathlon and able to grow their self esteem. Here as individuals they are encouraged to race and most of all to have FUN while they are at training. The serious stuff starts at races where they put into practice all they have been taught from swimming, cycling, running and the 4th discipline transition.
Throughout the year we have fun 'racing' within training sessions which can be relays or individuals against the clock. We practise transitions with duathlon style training (run/bike/run) and everyone is encouraged to develop their own system in training which they can transfer this skill to racing.
A typical Saturday session is a one hour swim session developing swim technique and encouraging harder efforts within their swimming. After the swim sessions we either concentrate on cycling solely looking at technique (cornering, gear selection, group riding) or running. We often practice transitions and practice full triathlons ready for racing. You can rest assured after 2 hours training they have deserved there next Mars bar or an early night!!
We welcome all abilities and encourage participation from all ethnic and diverse backgrounds. If there are youngsters with disabilities or learning difficulties please feel free to speak to one of the coaches as we will endeavour to ensure they feel part of the Juniors.
One of the most important rules of participation is that the correct equipment is brought to sessions.
Swimming – Use of goggles, swim cap and correct swim gear
Cycling – BS standard Helmet, Bike (in roadworthy condition), and correct clothing for conditions
Running – Suitable clothing for running (cooler for the summer, warmer clothing for winter), Run shoes
One of the most important messages our Club and Coaches want to make is 'Triathlon is Fun' Please feel free to contact one of the committee members to find more information out.
Sessions are every 2 weeks and are on a Saturday afternoon 2.30-4.30pm. Please visit our training/what's on page to get the details of the next session.