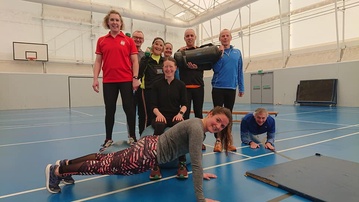 Triathlon itself started in the mid 1970's in America, but really took off with the Ironman in Hawaii which was first held in 1978. The first race in the UK was at Reading in 1983.
In 1984 an ex-paratrooper from Stamford, called Graham McLeod decided to organise an Ironman triathlon at Tallington Lakes. This proved a success, and the following year, the venue was switched to Ferry Meadows in Peterborough. There was initial interest in this Ironman race from some local Peterborough athletes, notably Steve Cox and Chris Boon, who were both lifeguards at the regional pool and the Lido. A meeting was organised to form a club in Peterborough to train for the Ironman and to meet like-minded people. This meeting took place in February 1985 at the museum, and the club was inaugurated. The meeting was attended and witnessed by Councillor Ken Winfrey. Laurie Miles also joined. He was to organise the Peterborough Marathon later that year, and was to become the chairman of PACTRAC.
The club then organised a number of mini triathlons and training sessions. Harold Frobisher was contacted, and joined the fold. He was a veteran of a number of Hawaii Ironman races, and fortunately for PACTRAC, he was the master in charge of the swimming pool at Oundle School. This 50-yard pool proved to be the perfect swim venue for PACTRAC's aspiring triathletes, and has continued to be the choice of venue ever since, providing the stability for the club to grow. The Ironman race duly took place in Ferry Meadows on 30th June, 1985 with 6 club members taking part. A smaller triathlon was also organised on the same day, and this attracted a lot of local interest/support/participation.
The club became very active, organising mini triathlons in the summer around the Lido pool in Peterborough; and starting an inter-club series with the Bedford, Leicester and Cambridge triathlon clubs. Various training weekends followed.
The club has seen a big turnover of members since those early days, with one founding member, Steve Hope, still present, and another, Paul Gallagher, having rejoined. Members have since gone on to compete in a number of events abroad, including World and European Championships, and full Ironman races. Members compete all over the country in the most prestigious races, and also in the national championship races every year.
The club is one of the most active in the country organising 15-20 races a year for its members, all involving at least 2 disciplines. In addition there are also 6 Frostbite 5-mile runs between October and March, in the local winter running league. In 1997 & 1998, PACTRAC won this, beating all of the local running clubs.
Club Constitution /media/files/Pactrac_club_constitution_ygGTNWT.pdf