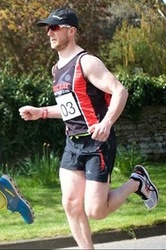 Member ID

1796

About me

I am 44 years old married to Kelly with 3 daughters Caitlin (16), Verona (11) and Esme (8) who all keep me on my toes more than triathlon and ensure my wallet is always empty!!
I have been doing Triathlon for 4 years in which time I have grown to love the sport and understand how to train and race at Age Group level - I have qualified for the GBR team previously in 2017 but unfortunately unable to take my position in Tartu, Estonia due to a nasty RTA accident.
I started the qualification process again in 2019 with a view to racing at the World Champs in Canada in 2020. I also have my debut 70.3 Ironman in Cascais, Portugal this September where I plan to race easy and see what all the fuss is about and how I lend to stepping up in distance.
I also enjoy being on the other side of the fence and helping other athletes improve being a L2 BTF coach where I also hope to progress my career as coach.
Race results
| Position | Event date | Event | Stage 1 | Stage 2 | Stage 3 | Total time | |
| --- | --- | --- | --- | --- | --- | --- | --- |
| 11th | Mon, 2nd May 2016 | Mid Distance Triathlon. | 0:17:27 | 1:00:05 | 0:36:28 | 1:54:00 | PB |
| 5th | Wed, 25th May 2016 | Mini-Series 2 plus Novice 1. | 0:06:29 | 0:29:07 | 0:24:01 | 0:59:37 | |
| 5th | Wed, 1st June 2016 | Mini-Series 3. | 0:06:40 | 0:29:07 | 0:26:11 | 1:01:58 | |
| 6th | Wed, 8th June 2016 | Mini-Series 4. | 0:06:16 | 0:26:08 | 0:23:44 | 0:56:08 | |
| 4th | Wed, 6th July 2016 | Mini-Series 8 plus Novice 3. | 0:06:27 | 0:26:38 | 0:24:46 | 0:57:51 | |
| 10th | Wed, 13th July 2016 | Mini-Series 9. | 0:06:37 | 0:27:22 | 0:24:04 | 0:58:03 | |
| 11th | Sun, 17th July 2016 | Standard Distance Triathlon | 0:31:59 | 1:24:03 | 0:48:25 | 2:44:27 | PB |
| 8th | Wed, 20th July 2016 | Mini-Series 10. | 0:06:34 | 0:25:55 | 0:24:22 | 0:56:51 | |
| 7th | Wed, 24th May 2017 | Mini-Series 1. | 0:06:31 | 0:25:02 | 0:25:26 | 0:56:59 | |
| 4th | Wed, 31st May 2017 | Mini-Series 2. | 0:06:44 | 0:25:26 | 0:24:45 | 0:56:55 | |
| 1st | Wed, 22nd May 2019 | Mini-Series 1. | 0:06:41 | 0:25:37 | 0:23:21 | 0:55:39 | |
| 2nd | Wed, 29th May 2019 | Mini-Series 2. | 0:06:42 | 0:25:43 | 0:23:25 | 0:55:50 | |
| 1st | Wed, 19th June 2019 | Mini-Series 5. | 0:06:43 | 0:24:40 | 0:24:15 | 0:55:38 | |
| 4th | Wed, 26th June 2019 | Mini-Series 6. | 0:06:32 | 0:24:58 | 0:23:24 | 0:54:54 | PB |
| 7th | Wed, 10th July 2019 | Mini-Series 8. | 0:06:34 | 0:25:38 | 0:24:34 | 0:56:46 | |
| 4th | Wed, 17th July 2019 | Mini-Series 9 | 0:06:45 | 0:25:16 | 0:24:11 | 0:56:12 | |
| 7th | Wed, 30th June 2021 | Mini-Series 1. | 0:07:25 | 0:23:57 | 0:21:09 | 0:52:31 | PB |
| 5th | Wed, 28th July 2021 | Mini-Series 5. | 0:07:17 | 0:24:56 | 0:21:07 | 0:53:20 | |