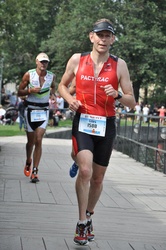 Member ID

1186

About me

I am a late-comer to triathlon and definitely a result of a mid-life crisis.

As a non freestyle swimmer until my 40th year I started with a couple of pool based sprint triathlons and got the bug! After a year of doing my own thing I joined Glasgow Triathlon Club (working away on a long term project) and made a break through with the swimming!

Returning to Peterborough in 2007 I joined PACTRAC and haven't looked back. The mini series triathlons are fantastic and great way of developing your race experience in a competitive but friendly environment (and great value).

Having survived my first marathon in 2010 the long term ambition is to complete an Ironman. The longer distances definitely suit my plodding pace!

If you are looking for a new challenge or just want some company to share the pain with then come and join us at one of the many weekly training sessions, from swimming to spinning.
Race results
| Position | Event date | Event | Stage 1 | Stage 2 | Stage 3 | Total time | |
| --- | --- | --- | --- | --- | --- | --- | --- |
| 17th | Wed, 30th May 2007 | Mini series 1 | 0:06:25 | 0:28:03 | 0:26:23 | 1:00:51 | |
| 23rd | Wed, 25th July 2007 | Mini series 8 | 0:06:28 | 0:28:17 | 0:27:38 | 1:02:23 | |
| 13th | Wed, 28th May 2008 | Mini series 1 | 0:06:25 | 0:28:19 | 0:26:42 | 1:01:26 | |
| 14th | Wed, 11th June 2008 | Mini series 2 | 0:06:24 | 0:27:21 | 0:26:28 | 1:00:13 | |
| 8th | Wed, 2nd July 2008 | Mini series 5 | 0:06:22 | 0:27:05 | 0:26:00 | 0:59:27 | |
| 22nd | Wed, 30th July 2008 | Mini series 8 | 0:06:26 | 0:26:59 | 0:26:15 | 0:59:40 | |
| 4th | Sun, 17th May 2009 | Off Road Triathlon | 0:12:43 | 0:34:08 | 0:26:35 | 1:13:26 | |
| 10th | Wed, 27th May 2009 | Mini series 1 | 0:06:14 | 0:27:12 | 0:25:45 | 0:59:11 | |
| 16th | Wed, 10th June 2009 | Mini series 2 | 0:06:06 | 0:27:18 | 0:25:47 | 0:59:11 | |
| 19th | Sat, 20th June 2009 | Dambuster | 0:27:11 | 1:23:18 | 0:42:45 | 2:33:14 | PB |
| 13th | Wed, 24th June 2009 | Mini series 4 | 0:06:18 | 0:26:40 | 0:25:26 | 0:58:24 | |
| 10th | Sun, 23rd May 2010 | Off Road Triathlon | 0:10:16 | 0:33:58 | 0:27:00 | 1:11:14 | PB |
| 15th | Wed, 26th May 2010 | Mini series 1 | 0:06:14 | 0:28:04 | 0:24:34 | 0:58:52 | |
| 13th | Wed, 9th June 2010 | Mini series 2 | 0:06:12 | 0:27:00 | 0:25:18 | 0:58:30 | |
| 15th | Wed, 23rd June 2010 | Mini series 4 | 0:06:06 | 0:26:03 | 0:25:56 | 0:58:05 | |
| 13th | Wed, 30th June 2010 | Mini series 5 | 0:06:17 | 0:25:19 | 0:25:32 | 0:57:08 | |
| 8th | Sun, 11th July 2010 | Long Course | 0:29:04 | 1:53:58 | 1:21:27 | 3:44:29 | |
| 11th | Wed, 28th July 2010 | Mini series 9 | 0:06:11 | 0:25:55 | 0:25:18 | 0:57:24 | |
| 8th | Sun, 30th January 2011 | Biathlon 1 | 0:15:02 | 0:36:56 | - | 0:51:58 | |
| 7th | Sun, 20th February 2011 | Biathlon 2 | 0:14:05 | 0:35:59 | - | 0:50:04 | |
| 5th | Sun, 10th April 2011 | Ride and Tie | 0:16:09 | 0:41:41 | 0:25:39 | 1:23:29 | PB |
| 12th | Fri, 29th April 2011 | Middle Distance | 0:13:53 | 0:52:15 | 0:34:55 | 1:41:03 | |
| 6th | Sun, 22nd May 2011 | Off Road Triathlon | 0:13:30 | 0:33:47 | 0:26:08 | 1:13:25 | |
| 10th | Wed, 25th May 2011 | Mini series 1 | 0:05:59 | 0:25:23 | 0:25:12 | 0:56:34 | |
| 9th | Wed, 22nd June 2011 | Mini series 4 | 0:05:56 | 0:26:10 | 0:25:29 | 0:57:35 | |
| 7th | Sun, 29th January 2012 | Biathlon 1 | 0:14:12 | 0:34:36 | - | 0:48:48 | |
| 7th | Sun, 19th February 2012 | Biathlon 2 | 0:13:43 | 0:35:23 | - | 0:49:06 | |
| 6th | Wed, 6th June 2012 | Mini series 2 | 0:05:59 | 0:25:17 | 0:23:55 | 0:55:11 | |
| 7th | Wed, 20th June 2012 | Mini series 4 | 0:05:50 | 0:24:44 | 0:23:56 | 0:54:30 | |
| 13th | Wed, 27th June 2012 | Mini Series 5 and NOVICE 2 together ! | 0:05:58 | 0:24:06 | 0:25:00 | 0:55:04 | |
| 7th | Sun, 22nd July 2012 | Long Course. | 0:27:52 | 1:50:10 | 1:15:58 | 3:34:00 | PB |
| 5th | Sun, 27th January 2013 | Biathlon. 1. | 0:13:30 | 0:35:42 | - | 0:49:12 | |
| 8th | Sun, 7th April 2013 | Ride + Tie | 0:39:41 | 0:19:55 | 0:41:01 | 1:40:37 | |
| 10th | Sun, 27th October 2013 | Duathlon. | 0:13:15 | 0:35:16 | 0:14:22 | 1:02:53 | |
| 3rd | Sun, 26th January 2014 | Biathlon 1 | 0:13:26 | 0:34:23 | - | 0:47:49 | PB |
| 5th | Sun, 16th February 2014 | Biathlon 2. | 0:13:54 | 0:35:36 | - | 0:49:30 | |
| 9th | Mon, 5th May 2014 | Mid-Distance Triathlon. | 0:13:19 | 0:50:19 | 0:33:42 | 1:37:20 | PB |
| 4th | Wed, 4th June 2014 | Mini-Series 2. | 0:05:36 | 0:25:39 | 0:23:45 | 0:55:00 | |
| 5th | Wed, 25th June 2014 | Mini-Series 5. | 0:05:39 | 0:24:20 | 0:23:44 | 0:53:43 | |
| 5th | Wed, 16th July 2014 | Mini-Series 8 | 0:05:45 | 0:24:50 | 0:24:10 | 0:54:45 | |
| 11th | Sun, 26th October 2014 | Duathlon. | 0:14:01 | 0:32:47 | 0:13:06 | 0:59:54 | PB |
| 7th | Mon, 4th May 2015 | Mid-Distance Triathlon | 0:12:57 | 0:51:23 | 0:34:05 | 1:38:25 | |
| 2nd | Wed, 12th July 2017 | Mini-Series 8. | 0:06:12 | 0:24:09 | 0:22:47 | 0:53:08 | PB |
| 2nd | Mon, 7th May 2018 | Mid-Distance Tri | 0:13:47 | 0:50:44 | 0:34:49 | 1:39:20 | |
| 5th | Sun, 19th August 2018 | Standard Distance Triathlon | 0:29:12 | 1:25:06 | 0:47:19 | 2:41:37 | PB |