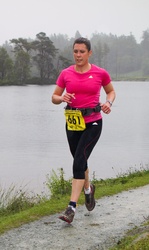 Member ID

1027

About me

I got into triathlon 12 years ago for a bet with some workmates I entered Duston Sprint tri and loved it. The people, atmosphere and support for all levels was brilliant.

I then joined PACTRAC to help sort out my swimming! At this stage I struggled to do one length of Oundle pool in front crawl.

After a few seasons at sprint distance I had ago at the longer half Ironman distance at our local event Vitruvian and again really enjoyed the camaraderie of the longer event.

So the following year I decided to have a go at The Outlaw, a local Ironman distance event. With the support of a very understanding Husband and great coaching from Dave P-H I had a great experience and fab day out. Managing to get round in a very surprising 11hrs 49mins. Proof that anyone can do it with enough time effort and support.

I have now decided to have a go at Ultra Marathons especially ones up mountains!

Tri wise at the moment I am enjoying coaching and being a BTF Race Official.
Race results
| Position | Event date | Event | Stage 1 | Stage 2 | Stage 3 | Total time | |
| --- | --- | --- | --- | --- | --- | --- | --- |
| 5th | Wed, 6th June 2007 | Mini series 1 | 0:07:18 | 0:30:11 | 0:23:50 | 1:01:19 | PB |
| 18th | Wed, 4th July 2007 | Mini series 5 | 0:07:11 | 0:31:00 | 0:24:38 | 1:02:49 | |
| 22nd | Wed, 18th July 2007 | Mini series 7 | 0:07:21 | 0:30:19 | 0:24:25 | 1:02:05 | |
| 11th | Sun, 10th April 2011 | Ride and Tie | 0:16:19 | 0:42:36 | 0:32:11 | 1:31:06 | PB |