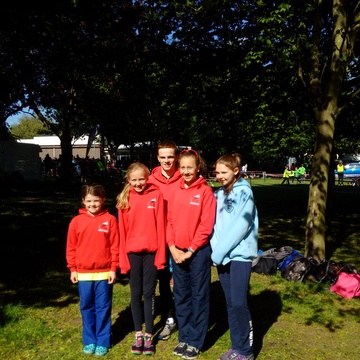 Cambridge Junior Tri 25th June
A good day for the club today at Cambridge.
Katie Tasker won TS3 event and automatically qualifies for the British Champs (IRC's*) in August. Typical performance all level into T1 powered away on the bike opening up a substantial lead in control to win comfortably.  In TS2 Olivia Corner was not quite firing on all cylinders and finished 4th she has to wait to see if she has been selected. She was not able to make headway on the bike and despite a good run was narrowly run out of the podium positions. Connor Walker had his 1st outing of the summer his strong swim had him well placed and improved bike meant he was in contention he finished 6th in a very competitive boys race. Libby Mellor had a improved race after a tough bike she soon got into her running to finish very strongly with an improved and fluent run picking up a number of places. Lottie Tasker had a good bike but tired and lost positions on the Run. Josh Moore had a good race and and his development continues.
*The IRC is where the top 3 from each age group from each region race off for the British title. Only the top 30 in Britain get an invite. Katie has made this for the 3rd year in a row and the course suits her with open water, hilly bike and a flat run so she will be in the mix.
Walden Junior Tri
update
One of the biggest races of the Eastern Junior series was held at Saffron Walden. This is an 6 County Eastern Region Qualifier with over 300 competing for 12 places into Race in the National champs at Mallory Park in August. 1st out of the blocks was Katie Tasker in TS3 who came out of swim in contention & on the bike she was able open an unassailable lead then and after a slick transition she soon got into her running and was able to secure a comfortable win.
In the TS2 girls Olivia Corner was able to get an amazing second place in a very strong field despite having an issue on the bike course that lost her over 30 seconds she was able to maintain focus on the run. It was a nervy time waiting for the results due to the staggered start they were not known until all the competitors had finished. Normally a very composed athlete this is the 1st time she has ever miscounted her laps but didn't panic but did lose time on the rest of the field.
These results stand both of them in a good position to obtain qualification if both are successful this will be the 1st
time PACTRAC will have had 2 members racing at the National Champs 
It was hard day at the coal face for the others on the energy sapping course for Toby Cooke, Chloe & Josh Moore. But all will benefit from racing at this higher level and toughed it out to finish strongly. 
| | | | |
| --- | --- | --- | --- |
| Name | Cat | Time | Position |
| Josh Moore | Tristart | 12:55 | 11th |
| Olivia  Corner | Tristar 2 | 00:27:30 | 2nd |
| Chloe Moore | Tristar 2 | 0:35:36 | 17th |
| Katie Tasker | Tristar 3 | 0:35:02 | 1st |
| Toby Cooke | Tristar 3 | 0:47:47 | 19th |
Double top for PACTRAC Youngsters @ Buckingham
4 Juniors racing at Buckingham this week. The heavy rain in the week made for tough going on the undulating Bucks circuit with the Bike circuit with standing water in places.
First out was Tristar 3 Katie Tasker in her 1st Triathlon of the season and was soon back to winning ways after opening a good swim she opened a lead, she was able to extend this over the gruelling bike course and completed the run unopposed to win by a margin of over 5 mins despite her seat post coming off on the last circuit of the bike. After her win Katie said – 'The Run was as hard it was a X-Country on its own and the bike course was like a swamp in places but I am pleased with my performance'. In Tristar 2 Olivia corner found form after exiting the pool in second place she soon closed the gap on the leader to exit T2 in the lead. She was able to maintain the lead despite being pushed all the way to the line. Chloe Moor also raced in the category and finished in her highest position to date with a highly credible 5th place due to a solid bike and improved run. Josh Moore narrowly missed out on the podium in 4th he just had too much to do after coming out of the pool.
The emphasis now moves to the big race at Saffron Walden in 2 weeks where Corner & Tasker hope to Qualify for the Eastern Region at the National Champs  



Name






Cat






Time






Position






Josh
Moore






Tristart






12:01






4th






Olivia 
Corner






Tristar
2






00:25:45






1st






Chloe
Moore






Tristar
2






10:08






5th






Katie
Tasker






Tristar
3






0:33:10






1st



Duston Junior Tri Report 22/4/17
4 Club Members racing in the East Midlands league event with a large field of nearly 400 children racing in all categories.
Tristart :
Josh Moore got on the podium for the first time. His transition skills in T1 helped him move up the field and after a good bike he was able to secure his best ever finish. 
Tristar 2: 3 Girls racing in the Category and another podium for Olivia Corner whose prowess on the bike meant she was able to scythe through the field on the bike and running fluently was able to complete a great 3rd position.
Libby Mellor : Her swim is very much improved and her better run meant she was able to move up the field. Another who is making real progress is Chloe Moore who was able to well on the bike. In the past her Achilles heel has been the run but looked far stronger in this discipline 
Bedford Junior Duathlon

The 2017 Eastern Junior league started at Bedford Aerodrome on Sunday. The course is flat & fast but the rain meant a little caution was required on some of the bends.
Tristart (Under-8)
Josh Moore having made his debut 3 weeks ago had a much improved bike and finished a strong 10th position
Tristar 2

Olivia Corner  had an improved run but was not able to exert her prowess on the bike to reel in the leaders but still had a podium finish.
Chloe Moore had a solid race but did find the 2nd run challenging
Tristar 3

Katie Tasker returned to winning ways. Entering the race the favourite she was challenged on the 1st run and throughout the bike. But on reaching the 2nd changeover the extra stamina running sessions over the winter paid dividends as she was able to open some daylight and the chasing field to win by reasonably comfortably by 40 seconds.
Results

| | | | |
| --- | --- | --- | --- |
| Name | Cat | Time | Position |
| Josh Moore | Tristart | 16:07 | 10th |
| Olivia  Corner | Tristar 2 | 22:13 | 3rd |
| Chloe Moore | Tristar 2 | 30:23 | 18th |
| Katie Tasker | Tristar 3 | 26:09 | 1st |


VeloPark East London Triathletes Children's Duathlon

The 1st race of the Junior season took place on Sunday 12th February with a Duathlon at the Velodrome at Stratford. In the coldest conditions of the year 4 juniors took part.
In TS2 Olivia corner was back to her brilliant best to comfortably win the TS1 Girls event with a fantastic bike that opened up an unassailable lead. Chloe Moore also in this event found this a tough course but finished strongly.
In TS3 Katie Tasker had  real ding dong with the SEChampion with the lead changing hands many time over the course of the race. A little local knowledge from the Londoner on T2 meant that Katie lost 10 seconds which she struggled to recapture to finish in 2nd place. All splits were identical to the winner In TriStart (8 years old) Josh Moore made his competitive debut and acquitted himself well a solid performance in the bitterly cold conditions.
Really great day if somewhat Baltic! :0)

Frostbite

Just wanted to say a huge well done to all of those who braved the cold wind on Sunday morning to race in the frostbite league. We had a great result and have consolidated our 3rdplace overall!
http://www.frostbiteleague.org.uk/Results/2016-17/Race_2_2016_scoresheet.pdf

There were some fantastic performances especially from those slightly less experienced runners
 
Bushfield November 2016
Time
Position
PACTRAC

Points

Points last Year
Improvement
Joe G
00:07:55
38
777
846
92%
Katie T
00:07:34
21
813
846
96%
Flo B
00:07:30
17
820
892
92%
Hugo
00:07:39
27
804
 
 
Olivia C
00:08:37
79
714
791
90%
Connor
00:07:22
14
835
815
102%
Toby C
00:09:49
151
626
703
89%
Norah B
00:09:07
114
675
 
 
William
Horspool
00:12:40
219
832
 
 
Teddy Cowin
00:08:52
92
694
 
 
Lottie T
00:10:27
179
589
646
91%
Libby M
00:10:47
192
570
644
89%
Chloe M
00:11:48
215
521
516
101%
Jack Cooke
00:10:32
182
584
 
 
Winners Time
00:06:09
Ipswich Tri - Framlingham 28/9/16

This was the last triathlon of the eastern region series and there was success for PACTRAC Juniors. This was Jonathan Oakey's last race as a youth before moving up to a senior level and the 16-year-old took his opportunity to win the Youth boys event. After a steady swim he began to exert control on the bike on a testing undulating course. With some swift transitions he was able to open up a lead turning in the fastest run to win.
Oakey was not the only success at the Framingham course with Katie Tasker continuing her rich vein of form. She won the TS3 girls race to secure the Eastern region championship for the 2nd time in succession. This places her in a
good position for the Nationals held in Glasgow this weekend where the top 30 of each age group race it out for the British Championship.  
Wi-Tri junior Tri at Whittlesey 13th Aug 2016

WITri hosted the Eastern Regional league event at the Manor on Saturday. There was a really good turn out from PACTRAC Juniors with 17 members competing at Whittlesey Tri. This was the 1st event for a number of the Juniors. With so many racing there were many excellent performances & PB's. With Softer ground the cycle course was challenging and was able to sap the spring out of the stride of many competing.
There were 2 outstanding performances in Tristar 2 boys Connor Walker continued his good form to finish 3rd in a quality field. He posted the fastest swim time and with a slightly faster transition he could have finished further up the podium.
In Tristar 3 Girls Katie Tasker won by the narrowest of margins to beat the current Regional champion by 0.3 seconds in a highly competitive race. The shorter distances tend not to suit Katie but was able to raise the tempo on the bike enough to open a lead. It was a good bit of pacing that enabled her to retain her lead. To hold on to victory. 
Tri Sport Epping junior Tri at Upminster 24th July 2016
TS2 Girls - Olivia Corner narrowly missed out on the Podium to finish 4th her swim is improving and after an assured bike and run came in a highly creditable 4th place. 
TS3 Girls - Katie Tasker came out of the water in 3rd place put soon made head way on the field to open a significant gap she was then able to extend to win the race comfortably securing her 4th win of the season 
Youth Boys - Matt Wouldham gave a strong performance in the swim to put himself in contention he was then able to build a significant lead on the bike. With good even pace setting he was able to keep the remaining field at bay to win. 

Rob McLean - Cambridge Tri 26th June 2016

We had 9 racing at Cambridge one of the most prestigious races in the Eastern region and a Qualifier for TS2/3 for the Inter Regional Champs in Glasgow later this year. 

TS2 Girls We had Olivia Corner, Lottie Tasker & Chloe Moore racing. Olivia headed the girls with an assured performance. She has vast potential and will be competitive in the future. 
TS2 Boys Connor Walker, Sam Oakley, Louis Dawson & Toby Cooke. Connor & Sam both raced very strongly and adjusted to this competitive race very well both turning in excellent runs to cap off good races. Connor coming home in 6th & Sam in 10th. 
TS3 Katie Tasker raced for the TS3 girls and was dominant through out after being narrowly headed out of the pool she took control on the bike and with a high tempo cycling style soon strectched the field. Her run is much improved and with great consistency in her pacing was able to forge ahead on the run. By winning this event this has hopefully secured her a berth in the Eastern Region team for Glasgow in September. 


Walden Junior Tri 4th June
There were 4 club members racing at Walden Tri. A very well organised friendly event and a Qualifier for TS2/3 for the IRC National finals.
TS3 – Katie Tasker was not at her absolute best but was able to secure a podium position. She was in 2nd towards the end of the run just to be headed 400m from the line. This puts her is a good position for qualification.
TS2 -Olivia Came 5th and was the best 'Younger Year' competitor. She did not produce her normal barn-storming bike to finish 30 seconds off the podium. She had a much better swim and a good run. All is not lost as the Cambridge course will suit her more.
Toby Cooke had a good race and finished in Mid division a much improved Swim helped his cause greatly. Chloe Moore found the run tough She is making progress andenjoyed her day & race. 
East Essex Junior Tri 22nd May 2016
With only 2 Juniors carrying the PACTRAC junior banner at it fell to Matt Wouldham (Youth) Olivia Corner (TS2) to uphold the clubs honour.Matt got off to an excellent start posting the fastest swim time but the soft conditions on the bike made life hard on the bike and he slipped back to finish a creditable 11th place.
Olivia Corner was involved in the closest race of the day with 2 seconds separating 2nd to 5th. Olivia who not always had her rub of the green managed an excellent 2nd place despite having a puncture on the bike and Cramp during the swim. Eyes in the eastern region now turn to the National IRC qualifier at Saffron Walden this Sunday.  
Nottingham Junior Tri 22nd May 2016
5 Juniors raced in the East Mids event on a tight and twisty course in Nottingham. The Bike course was very technical and required great skill to take at speed. The club got off to a flying start when Jonathon won the Male Youth race. After coming out of the water in 4th place he made up 2 places in transition and soon took the lead on the bike. He continued to stretch his advantage coming into T2 and further extend his lead on the run to win handsomely. Hannah Basset finished a creditable 6th in the Female Youth race proving solid in a 3 disciplines.
Tristar 3 had Katie Tasker racing in a very competitive race she performed above expectations to narrowly miss out on the podium to finish 4th. Good transitions and the fastest bike leg put her in contention. This was a good performance as even the age group Champ from last year finished 8th!
Tristar 2 saw Olivia Corner again finish 4th a fantastic achievement in her 'younger year' She finished with a powerful run after seizing the initiative on the bike to make headway through the field.  Special mention need to be made for Chloe Moore who is making great progress in race craft and performance.
The results for Corner & Tasker set them in good stead for the upcoming National Qualifier at Saffron Walden on Sunday 5th June. 
Training Event
The Club held a training event on Saturday 7th May - This was a great opportunity to put those skills learnt over the winter into practice. It was also chance for those who moved up a category to get used to the longer distances. 
We also had the Mini-Tri for those Junior Junior members. Thanks to those children who helped the minis. The times are on the gallery and well done to all those who entered. 


Frostbite 
The Finale was this weekend with some more great performances. Good to have so many racing over the whole series. A special mention to Norah making her official debut and coming a highly impressive 101st! We bid farewell to Jonathan at Frostbite who moves up to the seniors next year. Thanks to him for all his efforts over a number of years and for his consistent performances this season winning the Boys award. The Girls award was won by Lottie for always giving
it 100% and maintaining a smile whilst racing.