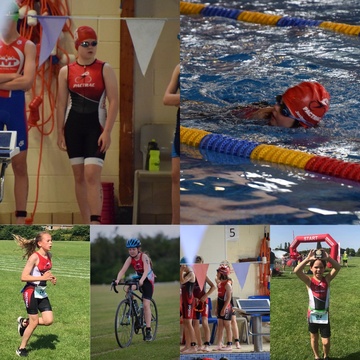 We currently train every other Sunday at Stanground School 11am-1pm which includes a run/bike session followed by a swim. We also have a junior swimming session at Stanground every Wednesday 7-8pm. The main objective is for the Children to enjoy themselves and develop their skills. 
There is a pre-requisite and that is any new member needs to be capable of swimming 2 lengths front crawl unaided before they can join. This is for safety.
Typically, the 1st hour of the session will be a run / bike session on the school field. Bike handling skills are taught along with transition practise. Running can be around how to pace yourself to make sure that you can complete your run most efficiently
The second hour in general tends to be pool based and will involve swim drills then normally finishing with 'fun' relays. 
Depending on numbers we try and match the children into groups of similar age & ability. We are aware of the cost of equipment so are keen to make sure that the children see this as an activity they want to take up before parents spend too much money! 
We have a limited number of 'club' bikes but any bike will be ok as long as it is good working order. A helmet is essential again for safety reasons. Running in shorts, t-shirt, trainers & may be a wind proof jacket. The swim requires a costume and goggles. 
We do have club kit in an array of sizes available to purchase. All sessions need to be pre-booked at PACTRAC (clubpal.app)
There is a wide range of ability from raw novice to some of the older ones who race at National level, that said we have room for all. 
We also try to get the parents involved so if you come down you may find you get roped into time-keeping or marshalling! 

If you'd like more information please contact us, details are on the contact page.