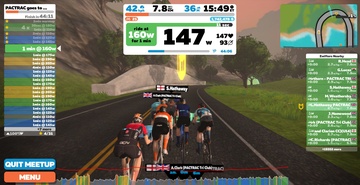 Group Rides
We don't have any formal group rides but encourage club members to arrange rides, Facebook is a great place to organise things so keep an eye out or ask if anyone fancies a ride out. 
There are a number of fantastic cycling clubs in Peterborough some of which are CTT affiliated and cheap to join so you can benefit from club and open TT races during the year as well as group rides.
Turbo sessions (Oct-Apr)
The sessions vary each week during Autumn and into the spring and will be in the format of a warm up, varying intervals at different zones and a cool down lasting approximately an hour in total. A majority of the participants use Zwift for these sessions but we also use Zoom so coaches can help you get the most from the workouts even if you don't have Zwift. Zoom also makes it more interactive and fun.
Workouts are sent out each week along with a ZWO file for those using Zwift. More information and details can be found in the PACTRAC Turbo Guide below.