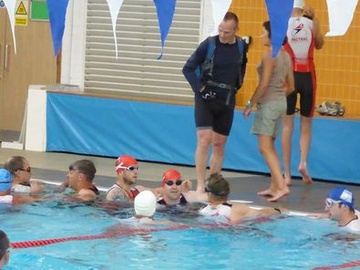 We have 2 locations for swimming and 3 sessions to choose from:
Monday - 50m pool at Oundle 7.30-8.30pm
This session is at the fantastic new pool at Oundle using the full 50m length. We have 4 lanes and these are currently uncoached. If you need some guidance on swim session please contact one of the coaches and they'd be happy to provide guidance. This is a seniors only session.

Wednesday - 25m pool at Stanground 7.00-8.00pm
This is a full coached sessions for juniors and seniors. The sessions are progressive throughout the season and led by a number of club coaches.
Wednesday - 25m pool at Oundle 7.30-8.30pm (except during mini-series season- July/Aug)
Currently this is a predominantly un-coached session for seniors held in the 25m pool. Keep an eye out on Clubpal for details of whether it is a coached or non-coached session. During the summer this is replaced by the brilliant mini-series which is a set of weekly mini-triathlons, all details of this can be found on Facebook and Clubpal.
Session bookings can be made on Clubpal at PACTRAC (clubpal.app)